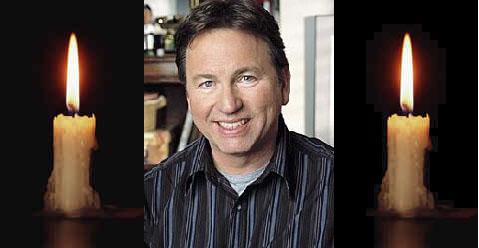 JOHN RITTER 1948-2003
This page is a memorial to one of my absolute favorite actors ever. The late John Ritter.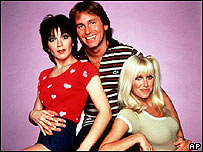 His breakout role as Jack Tripper on "Three's Company"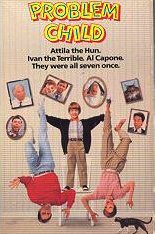 One of my favorite movies ever PROBLEM CHILD
John with his real life wife Amy Yasbeck costarring in Problem child as Ben and Flo Healy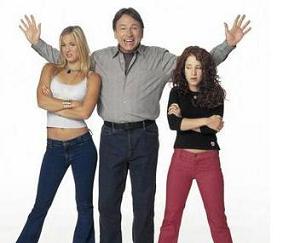 John's Final Tv Series "8 SIMPLE RULES"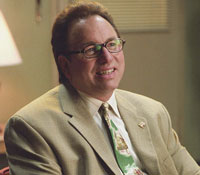 John Ritter in his final appearance on screen in "BAD SANTA"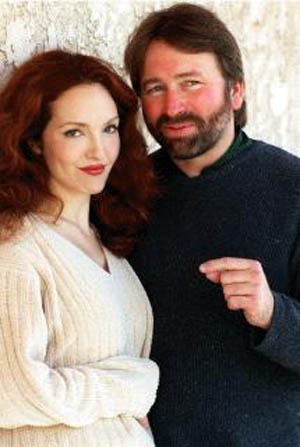 John and wife Amy Yasbeck
Major Big Screen Movies ( A few missing)

Bad Santa - John Ritter plays the role of a mall manager, in Terry Zwigoff's holiday satire. Billy Bob Thornton and Bernie Mac also star in this movie. Also available on DVD the unrated version Badder Santa.

Man of the Year - The plot: One night during the California electricity crisis, at a Beverly Hills dinner party, shocking things happen that will irrevocably alter 24 lives. Stuart, a successful energy industry entrepreneur, is hosting a party honoring his best friend Bill (John Ritter), an electricity power broker, who is on the verge of closing a deal that will make many of the partygoers very rich. But before long the party mood darkens. Secrets will be revealed, trusts will be broken, cover-ups will be exposed and relationships will change forever as the guests discover that Bill is not the man they thought he was. At the height of the festivities gunfire erupts. Someone is dead, a killer is among the guests. The only way to discover the culprit and the motive is to watch it all unfold. A lot can happen in one night. Website. Released at the Slamdunk Film Festival to excellent reviews. Read here.

Clifford the Big Red Dog - John Ritter was the voice of Clifford, on the much loved childrens show! John Ritter's last stint as the voice of Clifford was "Clifford's Really Big Movie".

TadpoleTadpole DVD Ritter is a father to a 16 year old son whom older woman now find attractive. The son has a crush on his step-mom, John's wife played by Sigourney Weaver.


Trip Fall Corporate executive Tom Williams (John Ritter) and his beautiful wife Gina (Rachel Hunter) take a much needed family vacation to sunny California. Unfortunately they end up in the sights of Eddie (Eric Roberts), a career criminal, and his violent crew of kidnapers looking for their next mark. The crooks earn Tom's trust, get his guard down and snatch Gina and their children. If Tom ever wants to see his family again, he must pay Eddie $1.2 million, his entire net worth. With only one day to comply and no one to turn to for help, Tom is in a face against time with his family's life at stake. official website


Sling Blade- Playing Vaughan Cunningham, John looked very different for this role of a gay man. Written and directed by John's friend and his "Hearts Afire" costar Billy Bob Thorton.

Stay Tuned - Plays character Roy Knable who along with his wife , played by Pam Dawber get sucked into the TV literally and have to survive twisted versions of TV shows, including "Three's Company". One of the funniest family stories and fantasy comedies. Eugene Levy is also in the movie.

Noises Off - excellent! Is a hilarious look at love, lies and deceit that take place behind the scenes as a group of inept stage actors rehearse a Broadway - bound play. Just when members of this chaotic cast finally get their performances right, everything else goes wrong. Several people star in this film like Christopher Reeve, Michael Caine & Carol Burnett.

Problem Child 2 - Junior the monster child is back, as him and Ben, his adoptive father (John Ritter), move to Mortville, "the world's capital of divorce". There, Ben falls in love with a beautiful but mean-minded rich woman, Lawanda Dumore, who wants to marry him and eliminate Junior. Junior gets his new friend Trixie, she's another monster, to help avoid this disaster. Together they try to get their parents to fall in love. Trixie's mom is Annie, (Amy Yasbeck) the school nurse. Of course lots of trouble goes on as this match forms.

Problem Child -Meet Ben and Flo Healy (John Ritter & Amy Yasbeck) They want a young child of their own, but Flo is incapable of having a child herself. Enter Junior, a little monster who has been to foster parents' homes since he was a baby and always made himself get thrown out so one day he goes to the orphanage and causes trouble for the poor nuns (although some of them deserved it). So Ben and Flo go to adopt a child and the administrator, Peabody, cons them into taking Junior off their hands. Junior goes home with the Healys to a nice house which includes a bedroom full of clowns! Ben takes an immediate love to his son, no matter what the horrible things he does, even though he injured his grandfather, a bigoted politician, really turned a birthday party into a "blast", sicks a bear onto campers on a camping trip, and even goes on a joyride with convicted killer Martin Beck!

Skin Deep - John is a drunken, womanizing writer whose life is falling apart. Might not sound funny, but, he does it as only he can, with great humor! Most remembered for the hilarious glow in the dark condom scene, whacky walk and thinking he squished the dog! (He doesn't! :) The film begins when his mistress catches him in bed with another woman. Then his wife walks in. As a result, his wife leaves him. Things keep getting worse - his agent is dying, his house burns down. In spite of his despair, he can't help chasing women, engaging in a series of bedroom misadventures with a collection of women -including a female body builder; a woman who likes to set pianos on fire; and the girlfriend of a rock star. Great for a laugh.

Real Men - Ritter plays Bob, a untracivilized paper pusher who avoids confrontation at all costs. He gets mixed up with Jim Belushi's character is Nick, the best CIA agent in the world, who can handle any situation without flinching, fumbling, or mussing his hair. The story follows their adventures over the course of a week, they are being chased by both the Russians and renegade CIA agents. They dodge bullets, outwit their pursuers, face back alley ambushes and try to keep a very important appointment with aliens, Bob gets a lot tougher. And Nick gets in touch with his sensitive side. With this kind of teamwork they might even save all mankind.

Hero at Large (1980) - help get it to DVD - An idealistic but struggling actor finds his life unexpectedly complicated when he stops a robbery while wearing the costume of Captain Avenger, a superhero character of a film he is hired to to promote. He decides to dabble at being a superhero only to find that it is more difficult and dangerous than he ever imagined. Also starring Anne Archer.

Americathon - the United States government is virtually bankrupt and in danger of being foreclosed on by a group of Native Americans, now owners of the massive Nike Corporation. A desperate President (John Ritter) decides to make a last-ditch effort to save the country... by raising money with a telethon!


Made for TV Movies (incomplete list by far)


Man of Miracles - John is a small town minister who saves a young boy in a fire. It refreshes his own values. John is warm and caring in this movie, he's just so fabulous to watch.

It Came From the Sky - unique story, John plays a father to a handicapped boy. Interesting visitors (Yasmine Bleeth and Christopher Llyod) literally drop in on John his son & wife. Creating for an "out there evening".

Lethal Vows - psychological thriller, based on a true story, is about a seemingly upstanding, caring husband and father (Ritter) who is accused of foul play by his ex-wife regarding the mysterious death of his subsequent wife. To prove her suspicions, his ex-wife becomes determined to reveal David's sinister side by any means possible.

The Truth About Lying - John is a popular crime writer who tries to solve the disappearance of a wealthy couples baby. While patching up his own relationship with his wife.

Dead Husbands - John plays a doctor who finds a list of mens names in his wife possessions. He assumes they are her lovers, until he discovers the men at the top are dead! Its not long till his name is added. Together with his agent friend (Amy Yasbeck -REAL life wife!), they crack the case.

Chance of a Lifetime - a nice romantic comedy featuring Katey Sagal, (John's "8 Simple Rules" co star). In this movie, John and her are wonderful friends helping each other through difficult times when slowly but surely they realize what they feel for each other is more then friendship.

A Child's Wish - John fights for his ill daughter, (Anna Chlumsky), very touching. Tess Harper plays John's wife.

Dead Man's Gun - a cursed revolver bedevils the lives of a variety of owners.

Mercenary - Ritter is a rich businessman who's wife is killed by kidnapers. So he decides to get even. He hires a mercenary to find and kill the kidnapers.


Unforgivable - John plays a disturbed family man who puts his wife through domestic violence. After almost killing her in one of his rages, he seeks professional help through an innovative therapy program.

The Colony - thriller, John along with his family, moves from a crime-ridden inner city suburb to a self-proclaimed violence-free haven overseen by a godlike businessman. However, they soon discover that life in The Colony is much more sinister than it first appeared.

Gramps - Ritter is a normal lawyer with a loving family. When his mother dies, he contacts Jack (Andy Griffith), his estranged father. But Jack is not all that he seems. In reality, Jack is an obsessive and violent sociopath. Obsessed with remaining close to his grandson, Matthew, Jack is willing to do anything to stay, including murder.

Heartbeat - movie based on the Danielle Steel romance novel with the same name. John's first wife Nancy Morgan is also in this movie, her character is Zelda! John's character is Bill Grant is a successful TV producer but lives thousands of miles from his two young sons. At the same he meets Adrian, a happily married woman or so it seems. When Adrian becomes pregnant, her husband announces that he doesn't want children and leaves her. Bill and Adrian begin a friendship that leads to romance. While Adrian wrestles with hope, can Bill win the battle to keep this new love alive?



It - horror movie about Stephen King's novel It. The story starts in Maine, where a small child is lured into the hands of what audiences everywhere can be assured is one mean clown. The 30-year struggle against an evil supernatural force that masquerades as a circus clown named Pennywise (Tim Curry) begins in 1960 and spans until 1990. Featured are a group of six young men and one young woman who call themselves "the lucky seven" and are the unfortunate targets of Pennywise from pre-adolescence into their mid-forties. The lucky seven emerge physically intact but emotionally scathed after their first battle with Pennywise -- who is a self-labeled "eater of worlds...and children." When Pennywise returns 30 years later, the seven are forced to remember their terrifying past and faced with the prospect of destroying him once and for all.

The Dreamer of Oz - a Biography of Frank Baum, the writer of The Wizard of Oz. John played the lead character wonderfully. He accurately depicts Baum as a business failure with the singular gift of being able to communicate with children.

My Brothers Wife - John is still lovable even if he wants his brothers wife for himself. John plays the flamboyantly nonconformist member of a staid Boston family. When he sees his future sister-in-law (Mel Harris), it's love at first sight. But neither act upon their impulses--not throughout the 1960s, the 1970s or the 1980s. The film finally catches up with Ritter and Harris at a family funeral, 27 years after their first meeting.

Last Fling - John finds his perfect match, Connie Sellecca. When she disappears the laughter begins as he tries to get her back.

Prison For Children - is set in a brutal boys' reformatory. New superintendent John Ritter tries to improve conditions, but finds himself up against a wall of indifference and red tape. The film shows how a supposedly "beneficial" system of incarceration and detention can actually breed more crime than it prevents. Emphasis is on a boy who descends deeper into the morass of crime and cruelty the longer he is exposed to reformatory life. Betty Thomas also appears as a compassionate teacher who tries to get through to the boys. Filmed at an actual reform school in Colorado.

Unnatural Causes - Based on several actual case histories, Unnatural Causes stars John Ritter as a Vietnam veteran dying of Agent Orange poisoning. Alfre Woodard co-stars as real-life VA administration benefits counselor Maude DeVictor. Battling against official denials and bureaucratic red tape, Ms. DeVictor is finally able to expose the dangers of Agent Orange, and to assure full compensation for victims like Ritter (whose character is a composite).

Letting Go - a romantic film also starring Sharon Gless. John's character Alex is finding it extremely difficult to get over the passing of his wife of 11 years. His 9 year old son Max is even dealing with it better. So Alex joins a therapy group to help get over his great loss. While there he becomes great friends with Sharon Gless's character Kate. The steps towards healing are helping them both. The ending is most enjoyable! A real tear jerker in parts especially now that John himself has passed. As a song that reminds him most of his wife IS infact one of John's favorite songs, by his favorite group the Beatles, "In My Life".

Love Thy Neighbor - comedy with Penny Marshall.

Sunset Limousine - struggling stand-up comic (Ritter) moonlights as a limousine driver and gets mixed up in a client's (Martin Short's) shady business deal. Paul Reiser is also in this film.

In Love With an Older Woman - John is a young (29) single lawyer. He falls in love with a 43 year old investigator Isobel, played by Karen Carlson.

Pray TV - This even-handed exploration of the televangelism business stars Ned Beatty as the Reverend Freddy Stone, whose religious empire nets $3 million annually. John Ritter co-stars as Rev. Tom McPherson, a newly ordained clergyman who joins the Stone operation. As Ritter begins to question the religious ethics behind Stone's lucrative ministry, a subplot develops involving Reverend Gus Keffer (Richard Kiley), who in contrast to Stone must operate on a shoestring, minus the glittery trappings of TV, radio, and SRO revival meetings.


The Come Back Kid - a down and out former minor league ballplayer (Ritter) finds romance and a renewed zest for life when he takes a job coaching a group of underprivileged kids to the little-league crown.

Leave Yesterday Behind - John is injured while playing polo, becoming paralyzed from the waist down. Feeling despondent, he decides to go to his grandfather's ranch. He meets Marnie, (Carrie Fisher) a horse trainer. She finds herself falling for him and he for her, too. But he tries to resist, he doesn't know what kind of future, he could give her in a wheelchair.